Keeping your score has never been easier
The scorecard in GLFR is one of the most important and used features in the app.
Our goal has always been to make it as easy as possible for you to keep your scorecard. With a single click your keep track of your shots and your score throughout the round.
But, there is more to the scorecard in GLFR than meets the eye.
Open GLFR and swipe from left side, to open the menu. Click "Profile" and go to the handicap settings. Type in your handicap here and hit save.
Now GLFR automatically calculates your extra strokes for every course in the app, and schould you choose to play a different tee than normal, you only need to change the desired tee.
GLFR has the rating of all the available golf courses and can calculate your course handicap.
Is your CH not correct?
In some clubs, you might experience that the calculation does not match your official scorecard. That probably means that we haven't been notified of a change by the course.
In that case, please send us an email (jam@glfr.com), and we will fix it ASAP 😀
The details of the scorecard
Hidden below the bottom of the screen, you will find a fully detailed scorecard. All you have to do to reveal it, is drag the (+) button upwards.
Here you can:
Cancel shots
If you registered too many shots on a hole or added it in a wrong location, the (-) button is found here.
Skip to a different hole
If you are playing a gun start or remember that you forgot to add a shot on hole 4, you can jump to a specific hole by clicking it in the scorecard.
See the details of your round
The detailed scorecard shows your course handicap, total shots and points, so you always have it readily available.
Upon reaching the last hole a small flag will appear above the +.
Hit that when you are all done with the round, and you will be prompted to review your scorecard before saving.
Save the round and within a few seconds the round is available for review at my.glfr.com.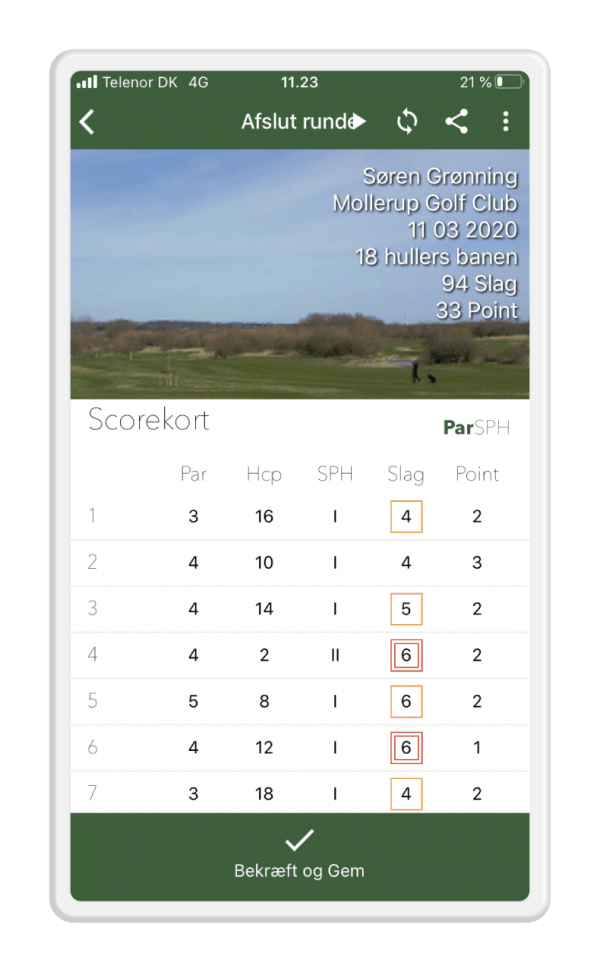 GLFR is a fantastic help on the course! Not only can you keep score, but also get accurate distances out on the course. It is simple, handy and easy to use.
Have fun with your game and GLFR.