Be a part of the GLFR team
On this page, you can see the active opening to join our team.
Marketing manager med flair for content creation og automation
Aarhus, 2021-08-31 – Ansættelse hurtigst muligt
Kan du se dig selv stå i spidsen for den digitale markedsføring i bestræbelserne på at nå GLFRs vision?
We're building the world's greatest ecosystem for golf courses and golf players
Hvem er GLFR
GLFR [golfer] leverer digitale services til golfklubber og golfspillere og er markedsleder i Skandinavien. 
Ved hjælp af en struktureret digital markedsføring er ambitionen at skalere forretningen først til Europa og derefter hele verden. GLFRs helt unikke tilgang til markedet skaber synergi mellem klubber og spillere, og den digitale markedsføring er et centralt element i værdiskabelsen.
Vi har digitaliseret vores B2B customer journey, og det bliver din opgave at videreudvikle og effektivisere den yderligere. Over for golfklubberne – vores B2B segment – laver vi account based marketing, hvor vi bruger HubSpot som det primære CRM og marketing tool.
Tilsvarende markedsfører vi GLFR overfor spillerne (B2C), hvor Mailchimp, WordPress og Facebook bliver de primære tools. Ambitionen er, at den digitale markedsføring skal mangedoble brugertallet og sikre en tårnhøj retention.
Du bliver nøglen til succes
Du er den primære driver på branding af GLFR overfor både golfklubber og golfspillere. 
På B2B-siden sikrer du tilgang af sales qualified leads gennem vedkommende nyhedsbreve, som potentielle kunder helt naturligt laver "call to action" på. Herefter overtager en Sales Manager kunden, og når et salg er gennemført, sørger du og Customer Success teamet for, at kunderne får det fulde udbytte af platformen og bliver gode reference for GLFR.
På B2C-siden sikrer du tilgang af nye brugere, ligesom du skaber retention gennem gode bruger-stories og enkle, forståelige feature-updates, og her bruger du både de skitserede digitale tools, men også webinars og video.
En vigtig rolle bliver at skabe det content, der gør GLFR til thought leaders i vores felt.  Det skal derfor være helt naturligt for dig – sammen med salg og ledelse – at søge den gode historie, og du skal kunne formidle den videre på en værdiskabende måde.
Dine opgaver bliver bl.a. at
Styrke vores brand over for både golfklubber og -spillere

Sikre at markedsføringen er effektiv og i høj grad automatiseret

Producere det content, der sikrer en stærk SEO og konverterer de besøgende på vores website, herunder bl.a. blog posts, interviews og video.

Engagere vores kunder og brugere gennem SoMe, nyhedsbreve osv

Være en nøgleperson i vores kommende markedsplads
Vi forventer at du
Er en ørn til content creation og

Er udadvendt, vant til at tale med kunder og kan skrive den gode historie

Kan formidle et budskab professionelt på både dansk og engelsk

Kan tage gode billeder og video og foretage basal redigering

Har kendskab til nogle af de tools vi bruger, herunder

HubSpot, Mailchimp, Analytics eller lignende

WordPress eller andre website builders

Kender til golfsporten og kan tale "sproget" eller er klar til at lære det

Brænder for at arbejde i en digital virksomhed i vækst

Har det drive der skal til for at tage vores markedsføring til det næste niveau
Hvis det lyder som noget for dig, så kontakt vores Founder og Opfinder, Jacob Markussen, på jam@glfr.com med dit CV og ansøgning. Der indkaldes til samtale løbende og stillingen besættes hurtigst muligt.
3 Sales Representatives for golf software
UK market
German speaking market
Scandinavian market
Aarhus, GLFR by Ingenium Golf, August 2021
You know the golf market.
You would love to sell valuable software services to golf course owners and managers. 
You are self-driven and ambitious, and crazy about getting the chance of making GLFR a success in your own territory. 
If you tick these boxes, and you're willing to go the extra mile to make things happen, you are probably the right person for driving GLFR's ambition of building the world's greatest ecosystem for golf courses and golf players in your territory.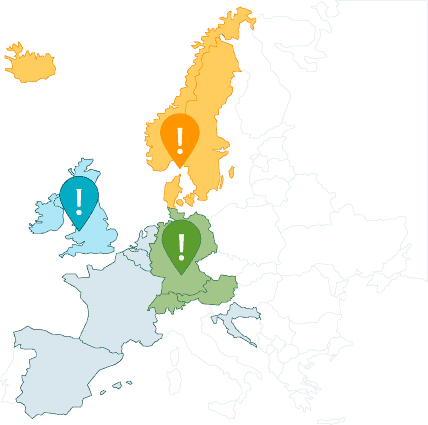 What is GLFR?
GLFR [golfer] is our global brand, and GLFR is a B2B2C business.

GLFR is a unique digital golf course presentation and promotion platform, and GLFR is at the same time a great golf and scorecard app for the players.

Golf course customers present themselves and their sponsors in the GLFR app, and they use GLFR to easily communicate with the players. Each club can so-to-say build their own, individual club app inside GLFR. 

GLFR has digitized the golf course and in seconds converts thousands of 
GPS -positions to precise hole graphics for the GLFR app, for print, signage, web and Social Media.
GLFR provides data-driven insights by using big-data to improve pace-of-play and the course layout.

GLFR is even becoming a marketplace, where the golf courses can promote and sell their offers to the many thousand GLFR users. 
GLFR is scaling the business into new markets, and UK and the German speaking markets are next in line. We need experienced, ambitious sales people to scale fast.
Responsibilities
Generate marketing qualified leads and build the local GLFR network

Assist Marketing in optimizing the digital customer journey

Most importantly use insights from the digital customer journey to approach leads and turn them into GLFR customers

Plan and deliver GLFR webinars and presentations

Represent GLFR in relevant market communities

Deliver great customer service and ensure happy customers

Gather ideas from customers and feed them into product development
Requirements
Personal drive, self-starter, entrepreneur mentality

Proven golf knowledge, e.g. as golf professional, golf manager or with golf sales

Great relationship builder

Strong communicator

Strong sales skills

Good at managing your time

Fluent in local market language and English

Own car and clean driver's license
About the company
GLFR is owned by Ingenium Golf, a Danish tech company. GLFR has been on the market for a few years, and already has a great market position in Denmark, Norway, Sweden, Iceland and Benelux. The head office is placed in Aarhus, Denmark, but sales representatives will probably work from home offices, supplemented with limited travel.
Applications are assessed as they arrive, so if you are the right person for this job – send your application now!
Send you application to CEO Hans Henrik Junge at job@glfr.com 
If you have questions you are welcome to contact Hans Henrik at +45 4016 5144.
See more
GLFR for golf courses: glfr.com/for-clubs
GLFR for players: glfr.com/for-golfers
Sample of personalized newsletter link: club.glfr.com/preview/glfr-mark-demo